Meet Our PGA Professionals
Lincoln Lyles

About Lincoln
Lincoln Lyles got his first cut-down golf club at age five. From that moment on he was hooked. Through adolescence, golf continued to play a major role, as he captained his high school golf team and earned individual conference championship honors twice. He then earned a full scholarship to play golf at McCook College in Nebraska.
In his early twenties, he decided to head West and began caddying at Pebble Beach Golf Links while continuing to compete in amateur events. It was here where Lincoln found his true passion within the game; studying the dynamics of the swing while helping people pave their unique path toward improvement. In 2020 Lincoln completed his certification process through the Leadbetter Academy.
Lincoln works on fundamentals and builds from there. Each player is different and can't fit into a mold. Combining swing style and body type while cultivating each player's unique qualities is the art of this game. Lincoln strives to provide a non-intimidating environment where the learning process is not only fun but continuously developing.
Teaching Philosophy
Just like you, Lincoln is on the infinite quest to perfecting the golf swing. He has dedicated his life to understanding the complexities of this game. We are all unique, and with that, his goal is always to construct your swing and game into the powerhouse of success it's meant to him! Take your golf game to the next level. Lincoln offers customized lesson plans for all skill levels, committed to helping improve every type of golfer. Online golf instruction as well as in person golf lessons available.
Contact
Phone: (719) 207-1086
Email: [email protected]
Ian Karafa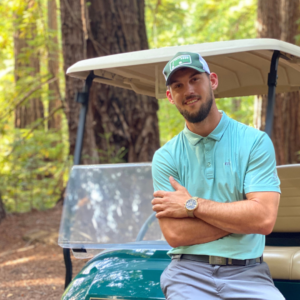 About Ian
Ian has been involved in the golf industry, in many facets, for 16 years, ever since he was 14 years old. After growing up and starting jis playing days in the beautiful west coast of Michigan, he moved to Arizona where he turned professional in 2011. This is where Ian would focus heavily on the teaching side of things and realized there is not a better feeling than helping someone excel at something that they love. He has had wonderful experiences and opportunities teaching at the likes of Bel-Air Country Club, Pumpkin Ridge Golf Club, The Gallery Golf Club and at The Preserve Golf Club right here in our backyard.
Being TPI certified (understanding of the body-swing connection) gives Ian the knowledge to take someone with a physical restriction and not only help in the prevention or training of a certain set-back, but also can take that restriction and know how to use it to your advantage as you develop your golf swing. The physical fitness side of golf is becoming much more prevalent as golf keeps advancing into the realm of a stronger, faster and more physically apt sport. Understanding how you can use your physically makeup, no matter what it is, to enhance your golf swing is an important piece to the puzzle.
He thoroughly enjoys being able to build relationships and watch as someone becomes a well-rounded golfer through their work and passion for the game of golf.
Teaching Philosophy
Golf is a game of much subjectivity. Whether you do it for fun, professionally, or anywhere in between, knowing that everyone is built differently both mentally and physically is an integral part of a being able to teach the game of golf successfully. Everyone requires different focuses and strategies, and he prides myself on being able to tailor my teachings accordingly.
When it comes to the swing and what the best approach is, the answer is there is not one better than the other. Being able to construct a swing based on the student's needs is very important. The basics of set up, grip, and weight distribution throughout the swing can be considered an objective concept but even these facets of the swing can be manipulated to each, and everyone's skill set or developmental progress.
Contact
Phone: (831) 238-8202
Email: [email protected]