Indoor Golf and Simulator Games
Play on the world's best golf courses, easily improve your game, or enjoy fun games for groups of all sizes
Links Club only uses TrackMan technology because it delivers an experience that redefines what is possible to achieve indoors. Every practice session, every golf hole, every tournament with friends… it all delivers the true feeling of the game. World-famous courses appear in stunning detail. Experience what simulator golf can do.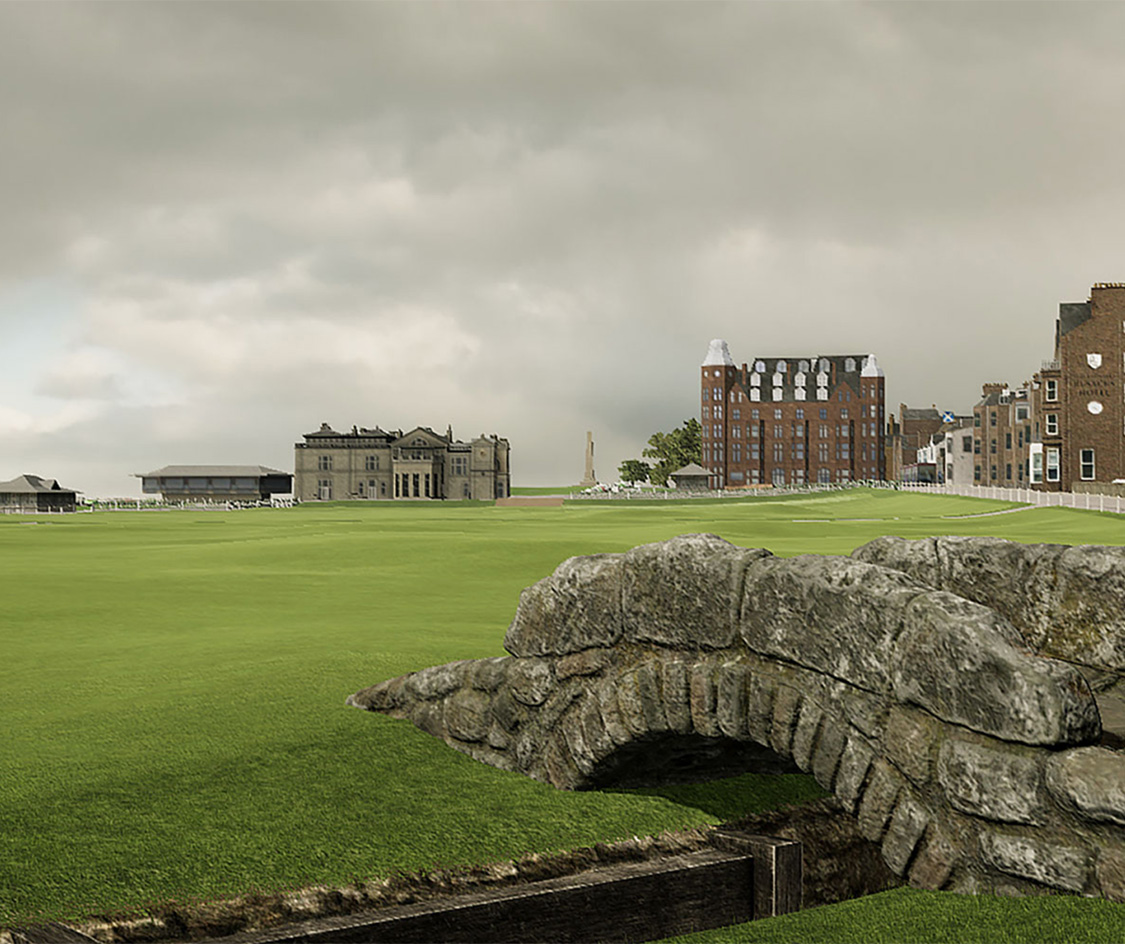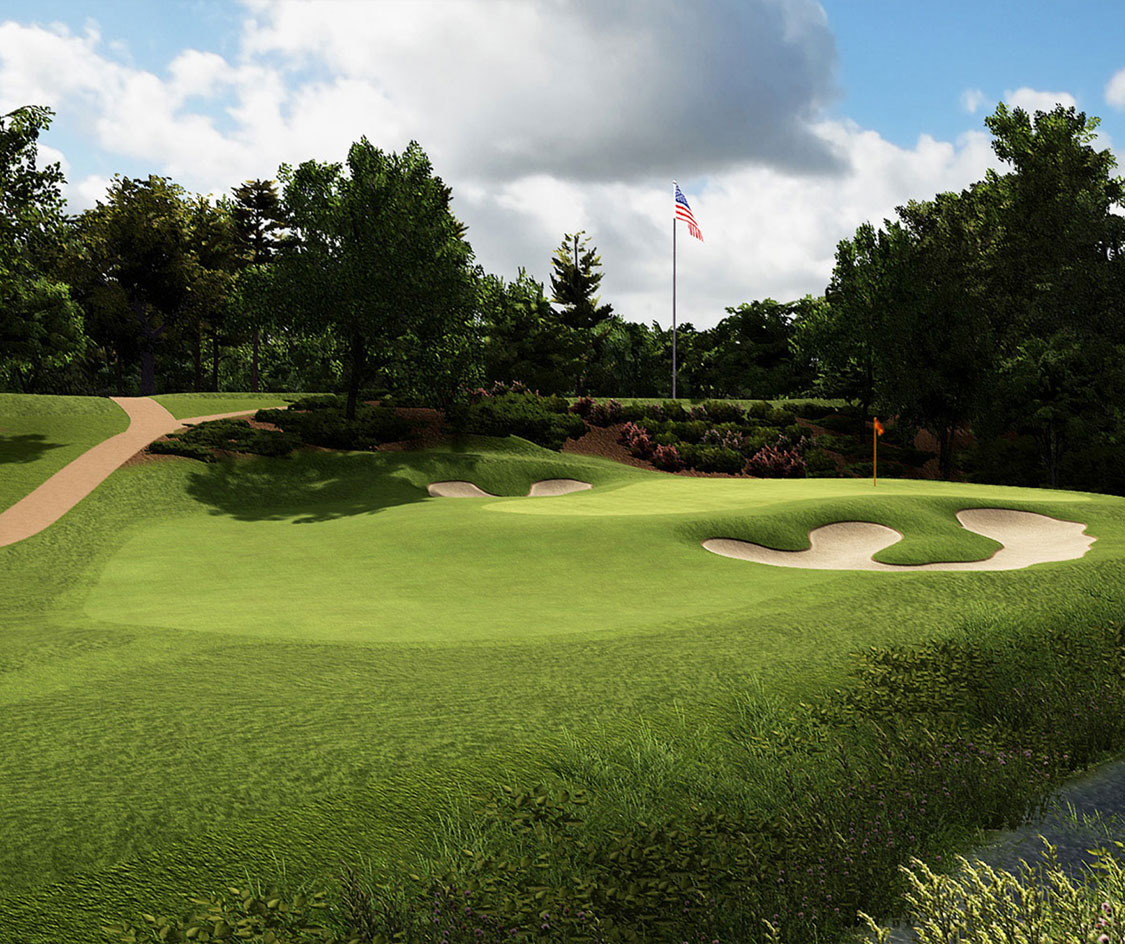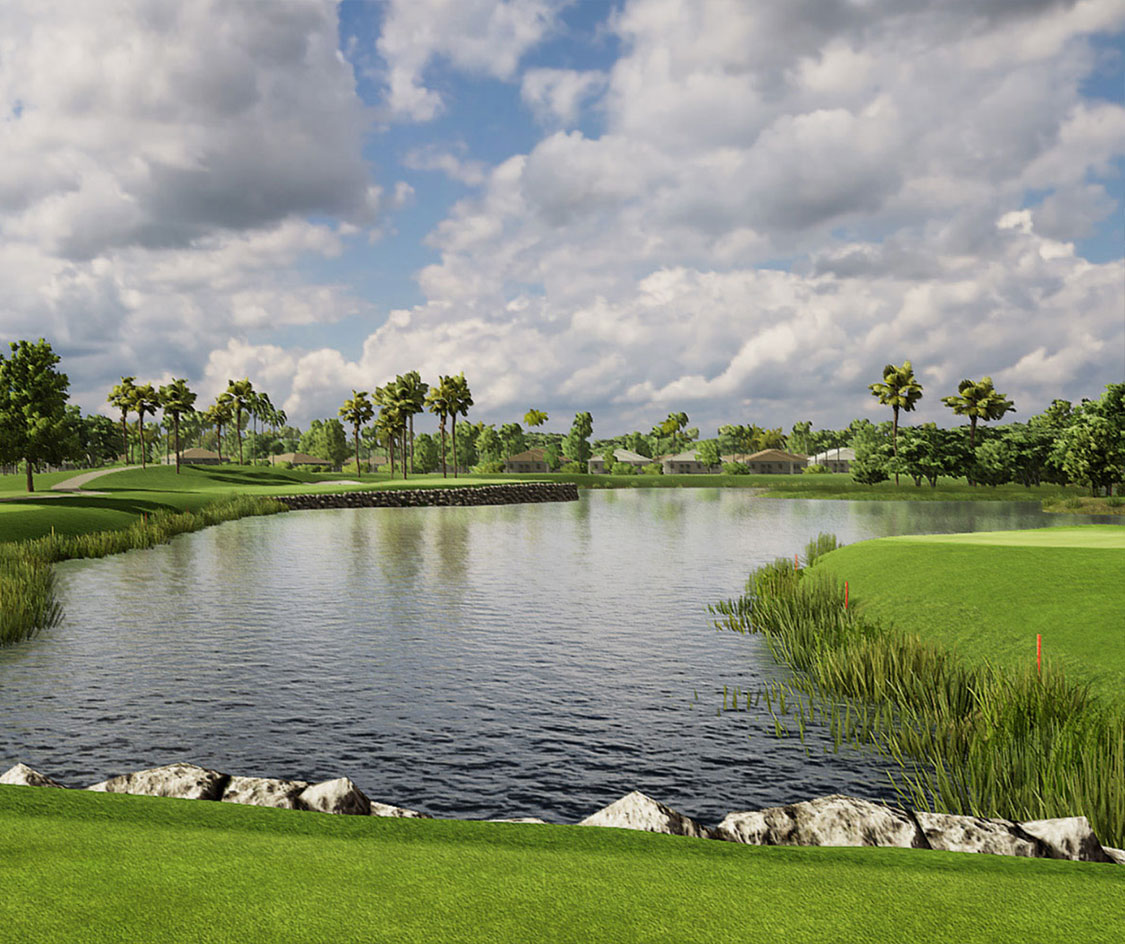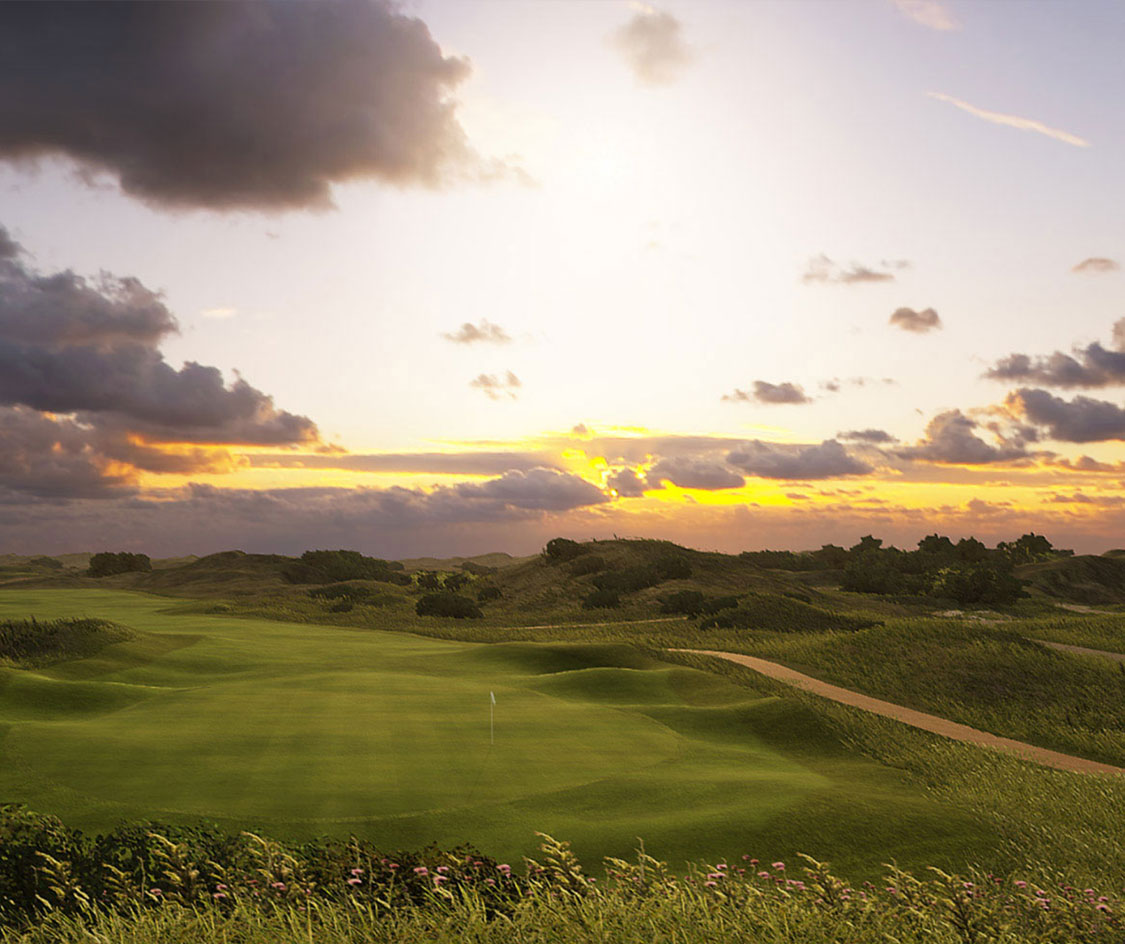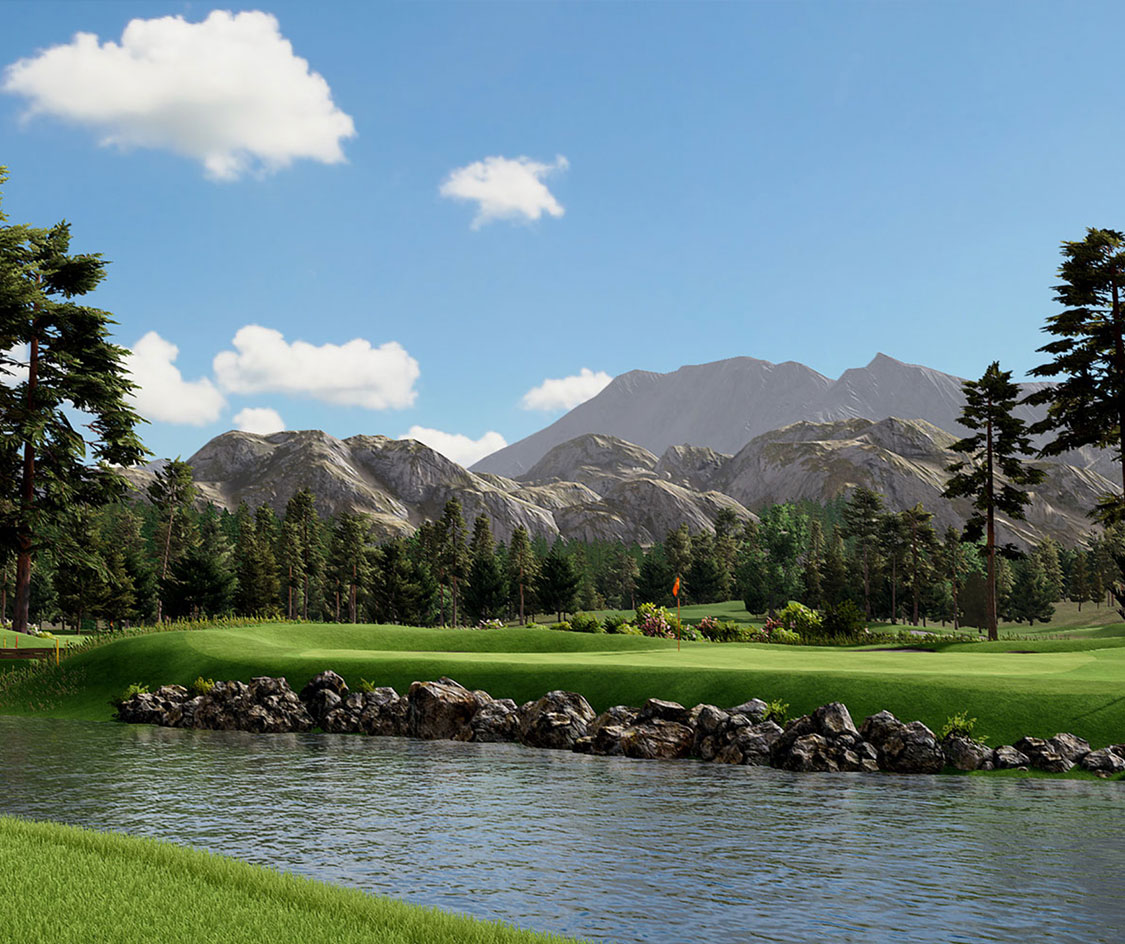 At Links Club you can play some of the world's most famous courses, including Royal Portrush, Innisbrook, Muirfield Village, Albany, PGA National and the four legendary St. Andrews Links courses. Work on your game in your private simulator bay, or play with your friends.
All courses have been redeveloped to represent the real-life version as accurately as possible. You get real tee names and distances, hcp indexes, slope ratings – and much more. The latest LIDAR drone technology was used for course mapping, guaranteeing a whole new level of accuracy compared to the standard industry satellite mapping.
Reserve a Links Club golf simulation bay and play your dream golf course…
Fun for everyone – from beginner to seasoned pro.
HIT IT!
Hit It! is a multiplayer long drive competition similar to the WLD Championship. Not only are players up against the clock, they also have to keep their shots within the virtual range's boundaries. With TrackMan giving the numbers, everybody knows exactly how far they've got to go to beat the opposition!
CAPTURE THE FLAG
Capture The Flag is a multiplayer test of skill, strategy and nerve. You select a flag and then try to hit your ball closest to it. Who can capture the most flags and keep their lead for the whole game?
CLOSEST TO THE PIN
Closest To The Pin is a fun way to test and practice your golfing skills. Play the par 3 holes on any course in the TrackMan course library. You can set your game to give up to five attempts per hole. In Event mode there are no limits to how many players can compete or how many attempts you can make. Game mode is for up to four players who want to compete on a single round. With more than 300 par 3 holes to choose from – and counting – there will always be a fresh challenge to meet!
BULLSEYE
Bullseye is a fun, entertaining and challenging points-scoring game for everyone able to hit a golf ball! Play Skyline, an atmospheric urban scene with hovering helicopters and authentic street sounds drifting up to you as you play golf on the top of skyscrapers and helipads. There's also Trading Post, a Western-inspired frontier town universe where you can almost feel the dust and sand under your shoes! If stunningly beautiful short courses are more your style, the new "Dalebrook" scene is perfect for you.

Links Club PGA Professional
Taking golf lessons from a PGA Professional is the single best way to improve your game. The PGA Professional is uniquely skilled at evaluating your game and can helping you reach your goals. Playing better golf will make the game more enjoyable and allow you to experience hitting more shots exactly the way you envision it. Wherever your golf journey is heading, let's get you there.  Learn more…
Private lessons — Take one-on-one lessons with the Links Club PGA Professional
Group lessons — This setting may provide a more comfortable learning environment
Clinics — Not sure if you're ready for a lesson? Inquire about upcoming clinics offered at Links Club
Fede, PGA Professional
Federico Frangiamore was born in Venice, ( Italy). He began golfing at the age of 5, and it was not long before his talent was recognized nationally.
At the age of 10, he placed first in the "Mickey Mouse Tournament", one of Italy's most important under 14 International Tournament.
Federico's early success led to his being recognized by Italian Federation of Golf as a "Brevetto" and " Brevetto Giovanile". Both honors are reserved only for those very limited number of youth players that win and place highly in a significant number of major national events.
He received numerous accolades and winning a number of prestigious national Golf Tournaments. Notably prominent National Newspaper wrote "no one was better than Federico Frangiamore" and described his play as "magical" citing his "strong short game and a magic putt" and calling Federico "a true golf machine".
In 2002 he was recognized by the Italian Federation of Golf as "Official Member of the Italian National Golf Team" and he began competing in International Championships of Europe Tour.
In 2005, at the age of 19, he placed first in the Leone San Marco Golf Tournament Venice that represents one of the oldest and most prestigious Tournaments in Italy.
In September 2005 he became a member of the PGAI and after his apprenticeship he assumed the position of Head Professional.
He was recognized one of the top ten Golfers in Italy and was able to compete with other highly ranked individuals nationally and internationally such as Mr. Costantino Rocca.
Federico is amongst the highest regarded golf educators in Italy, he possesses a special and unique qualified technique to teach the fundamentals of golf basics and tactical game elements that can make his students stronger and mentally prepared to handle competitive rigors all in a fun, giving them a lot of enthusiasm for the game. One of his student became the 2009 Under-14 Italian Champion. His success is a testament to Federico's outstanding skills and abilities to provide extraordinary professional golf instruction.
Federico moved in NYC in late 2013 and he has been in the "new york city scene " since then; he worked for Golf Manhattan (first indoor golf in Manhattan), Brooks Brothers and for 5 iron Golf before moving to the Peninsula in the west coast.
Federico has been published in the notorious "The New Yorker Magazine" in February 2019 and in "Golf Magazine " in October of the same year for his teaching skills, professionalism and semplicity to deliver effective ways to improve your swing in a small amount of time and making it fun for public of all ages.
Lesson Packages
Golf Lessons
30 Minute Lesson           $  95
45 Minute Lesson            $150. * plus 15 minutes practice time
One Hour Lesson           $185.
Lesson Packages – 45 minutes Sessions
3 Lessons  – $400
3 Free 30 minute Practice Time
Within 2 months time period
5 Lessons –$625
5 Free 45 minute Practice Time
Within 3 months time period
10 Lessons –$1150
10 Free  45 minute Practice Time
Within 6 months time period
Family Golf Night – Up to 4 People
90 Minute Sim Rental including:
45 Minute Lesson with Our Pro
Dinner for 4 people   $299
Flatbread, Tacos, Birdie Bites & Dessert
Monday – Thursday Nights Only
Links Club Memberships Available
Enjoy the convenience of indoor practice with added membership benefits.
$225 a month, no initiation fee or contract
Added benefits only for members
1 Hr/Day Free Simulator Time any Sunday at 5 pm until Friday at 5 pm
Reservations Must be Made Online
20% off any purchase at Links (Bay Rental, Retail, Food & Beverage)
Invitations to Leagues, Private Tournaments & Events
Links Club Will Open Early on Certain Days to Welcome Members to Practice
Sign up to learn more about about Links Club membership opportunities.
Links Club Gift Cards
Choose your amount and customize a gift card with with your chosen image and personalized message right on the card! Send the gift immediately, or schedule your delivery date in the future.
Come visit the Links Club retail shop for Straight Down golf apparel for men and women, PXG golf clubs, golf balls, gloves, hats, and more. Your golf shop in the heart of Carmel, California.

PXG Drivers, Fairways, Hybrids, Irons, Wedges and Putters are engineered with no cost or time constraints for golfers who demand the very best. All PXG cares about is performance. The irons have the thinnest face in golf, which, along with other key patented technologies, translates to amazing distance and outstanding accuracy. PXG clubs are made to exacting standards, and like our irons are top performers in every respect.  Learn more about PXG clubs…
Contact us to schedule your
Group or Party
event at Links Club.
Office Parties, Team Building, Corporate Events, and more…